The Magnis is an updated version of the Omnia Basic/Peaberry. Unlike the original versions this radio uses plug in BPF/LPF modules so band plan changing is very easy. The PA section is also updated to a pair of RD15HVF1(RD16HHF1 can also be used) for a clean 10W output. The frequency coverage is 160M – 10M.
Below are some of the features:
•96kHz digital I/Q interface. No additional sound card needed. Only one USB connection is needed.
•Two tone, 2 kHz spacing, third-order dynamic range: 99 dB.
•Support for Elecraft T1 automatic antenna tuner.
•External Amplifier control via AMP port.
•CW Key Jack.
•DG8SAQ/PE0FKO/SoftRock control interface.
•Open Source firmware.
•Firmware Field Updates via on board USB bootloader.
With these additional features:
• All bands. The Magnis SDR covers all bands from 160M to 10M.
• Enhanced receive. A RF amplifier is now in the RF front end that provides about 19db of gain at 10M and tapers down to about 0db at 160M
• Receive Band Pass Filters for all band groupings (160M,80M,40M-60M,20M-30M,15M-17M,12M-10M)
• The same BPFs are used in conjunction with Low Pass Filters in the transmit path to provide a clean output.
• 10W Class AB PA. Clean output of 10W on all bands.
• Real CW. Supports zero latency CW. Software generated CW is not required.
The Magnis SDR is also compatible with all host SDR applications that work with the Basic (HDSDR, Genesis SDR, Quisk and others).
Specifications:
Receive:
Continuous from 1.8MHz to 30MHz. (Lower sensitivity below 1.8MHz and between amateur bands)
Sensitivity: MDS: Average -123db. (-125db on 10M. -121db on 160M) ( MDS performance specifications for amateur bands only.)
Transmit:
Power Output: 10W, (transmit permitted on amateur bands only).
Spurious Emissions: Meets or exceeds FCC requirements (-43db from carrier).
Technical support and documentation is located at:
https://groups.io/g/TheVeteranSDR
Please do not use this website to obtain technical support. Requests for technical support via this website will not receive a response.
Enclosure not included.
NOTE:
This is not a kit. Included with the PCB will be an installed PSoC and PCM3060(fine pitch IC's), Front and back panels to fit readily available extruded aluminum enclosures, filter module PCBs for all Bands.
There is a one to two business day lead time before shipping the kit.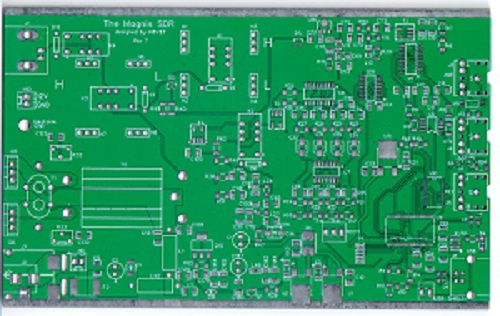 Availability:

Out of Stock